2018
Pyeongchang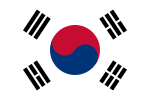 23. Olympic Winter Games
Close Gallery
9 more pictures to view
Olympic Medals in the games of 2018 in Pyeongchang
307

Medals in

15

Sports in

102

Events

After the 1988 Summer Games in Seoul, South Korea hosted the Olympic Games from February 9th to 25th. Pyeongchang is a small town 130km east of the capital in the Taebaek Mountains. Geographically, it is at the height of Sicily. The distance to the North Korean border is less than 100km. North and South Korea are still officially at war since the Korean War in the early 1950s never ended formally. The United States has never recognized North Korea under international law, there was no peace treaty. North Korea's ruler Kim Jong-Un repeatedly tested nuclear missiles. US President Donald Trump and Kim Jong-Un insulted each other, the conflict threatened to escalate. Therefore, in the run-up to the winter games, some athletes, officials and politicians were concerned about whether safety was ensured if they took part. In his New Year's speech in 2018, Kim Jong-Un said that the two countries should start talking to each other again. When North Korea agreed to send athletes to the winter games on January 9, the situation calmed down immensely. A week later, it was agreed that the two countries would march in at the opening ceremony and that a joint women's ice hockey team would be set up. The South Koreans were not at all excited about this, knowing that their teammates were much worse than them. So her chance for a good placement or even a medal was over. Kim Jong-Uns sister Kim Yo-Yong attended the opening ceremony and North Korean general Kim Yong-Chol attended the closing ceremony. Kim Jong-Un sent greetings and a hundred handsome, uniformly dressed cheerleaders and an orchestra to Pyeongchang. Although they had no idea about the sports, they created a very good mood with their well-trained synchronized movements, dances, clapping and singing and attracted the full attention. The viewer felt that the northern neighbor was also present.

Russia was excluded from the games because of the scandal surrounding years of state doping. Only individual athletes who were demonstrably not involved and who had never doped were allowed to compete under the Olympic flag from Russia as Olympic athletes. In the event of a victory, they did not hear the Russian hymn but the Olympic hymn.

A bronze medal was added to Liechtenstein's Olympic statistics. Tina Weirather, Hanni Wenzel's daughter of the 1980 double Olympic champion, was successful in the Alpine Super G. The star of the Alpine competitions was the Austrian Marcel Hirscher. In Sochi in 2014 he had "only" won a silver medal in slalom as a favorite. In Pyeongchang, he became a double Olympic champion in alpine combination and giant slalom.

The Czech Ester Ledecká achieved a sensation. Anna Veith, who had won Olympic gold under her maiden name Fenninger in Sochi in Super-G, led the Alpine Super-G a tenth of a second ahead of Tina Weihrather from Lichtenstein. Everything looked like Anna Veith's second gold, which had fought back after several injuries between games. Ester Ledecká, who is actually a snowboarder, started in the twenty-sixth, had intermediate best times, prevented a fall and drove by a hundredth of a second. Veith understood immediately what had happened, Ledecká not at all. She was stunned at the finish, looked at the scoreboard and thought there was a mistake. The cameraman told her that she had won. She just said "No!" Only when he told her again that she really had won did she believe it. A week later, she confidently won the giant slalom snowboard. She is the first athlete to win the same games in alpine skiing and snowboarding.

Sporting stars were the Norwegian cross-country skiers led by Johannes Hoesflot Klaebo and Marit Björgen, and the French biathlete Martin Foucade. Marit Björgen, who won her first Olympic medal in 2002, ended her Olympic career with a total of fifteen medals, eight of them in gold. She leads her statistics of the most successful Olympic athletes at winter games. Norway and Germany fought for victory in the medal table, finally Norway narrowly prevailed.