2006
Turin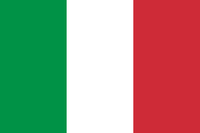 20. Olympic Winter Games
Close Gallery
7 more pictures to view
Olympic Medals in the games of 2006 in Turin
252

Medals in

15

Sports in

84

Events

Turin was the third Italian city to host the Olympic Games after Cortina d'Ampezzo in Rome in 1956 and 1960 from 10 to 26 February. Again there were records: 960 women and 1548 men from 80 countries fought for medals in 84 competitions.

Security measures were massive after the September 11, 2001 terrorist attacks on the Twin Towers in New York and the Pentagon in Arlington. The airspace over Turin was blocked. Visitors had to go through security controls before being allowed into the sports facility. Bad luck had someone who had parked his car with the Spanish license plate in the wrong place: Since it was suspected a bomb, it was blown up.
Germany won the medal statistics ahead of the USA and Austria. With nine gold, seven silver and bronze medals, Austria had only two silver medals less than the USA. For Austria this was by far the best result in Olympic history. Only in medal statistics was Austria better in Cortina d'Ampezzo in 1956 and Innsbruck in 1964, each with a second place.

The joy over the good result of the Austrian team was clouded by a doping scandal. A cleaner had found blood bags in the trash can in the cross-country area. The alarmed police raided and found over 100 syringes, 30 boxes of medication and several blood testing and transfusion devices. The night after the raid, two biathletes fled to Austria. They were expelled from the team for unauthorized leaving the Olympic site. The cross-country trainer Walter Mayer had also disappeared until he tried to break a police ban in the Austrian Carinthia while drunk. Numerous athletes and officials were banned.

The most successful participant was the South Korean short track runner Ahn Hyun-Soo with three gold medals and one bronze medal. Eight years later, with a new first name for a new country, he was to win three gold medals and one bronze medal: As Viktor Hyun-Soo for Russia. With these successes, he is the most successful short tracker in Olympic history.

In addition to reporting on television and the print media, the Internet had finally established itself as a source of information. The official website of the games has been viewed over 700 million times.