1956
Cortina d´Ampezzo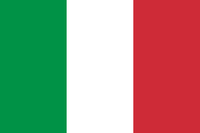 7. Olympic Winter Games
Close Gallery
2 more pictures to view
Olympic Medals in the games of 1956 in Cortina d´Ampezzo
72

Medals in

8

Sports in

24

Events

Cortina d'Ampezzo in Italy was already planned for the organization of the Winter Olympics in 1944. 12 years later, it should finally be ready. At that time, Cortina d'Ampezzo had no 5,000 inhabitants, embedded in the beautiful mountains of the Dolomites.
The opening of the games was on January 20th. There were many premieres. The Olympic oath was first spoken by a woman, an Italian ski racer. On the day before the opening, alpinists carried the flame up to the battlements of the Tofana. It shone on the mountain all night. Around noon the Italian downhill Olympic champion from 1952 Zeno Colò drove down the mountain with the torch. The Italian speed skater Guido Caroli finally lit the Olympic flame.
The Soviet Union took part in the Olympic Winter Games for the first time and immediately won the Nations Cup. It was a shock for the Canadians and the Americans that they lost to the ice hockey tournament of the Soviet Union.
GDR athletes were able to compete for the first time in an all-German team. In the qualification for the games, however, athletes from the Federal Republic of Germany and the German Democratic Republic had to assert themselves for the joint team. Harry Glaß won the bronze medal in ski jumping as the first East German athlete, not for the GDR, but for Germany.
Until before the games, it was customary to hold competitions with your arms stretched out. The Finns surprised with a new jumping style. They jumped to a one-two victory with their arms on their bodies.
Television had finally established itself as a mass medium worldwide, the games could be watched live in private households, in cafés and inns, but also in cinemas. Since there was an opportunity to watch the competitions on television, fewer spectators than at previous winter games came to watch the competitions live.