1896
Athen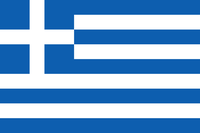 1. Olympic Summer Games
Close Gallery
9 more pictures to view
Olympic Medals in the games of 1896 in Athen
123

Medals in

9

Sports in

43

Events

In 1896 the first modern Olympic Games took place in Athens from April 6th to 15th. But what had happened before? The first ancient Olympic Games took place in 776 BC. These should be carried out over a period of over 1000 years. In 393 AD, the games were banned by the Roman emperor Theodosius I because he saw it as a veneration of pagan gods. The idea of ​​reintroducing the Olympic Games came up again and again during the 19th century, but it was only the French educator and historian Baron Pierre de Coubertin who presented his ideas to delegates from eleven countries in Paris in 1894 at a congress in the Sorbonne. The decision to reintroduce the Olympic Games was quickly decided. Finally, it was agreed that the first games in Athens in 1896 to honor the mother country of the Olympic Games. Funding was provided through donations, special stamps and tickets. There was an opening ceremony, the participating athletes were grouped by nation in the middle of the Panathinaiko Stadium, there was a speech by the President of the Organizing Committee, the opening words of the Greek Crown Prince Constantine I, and then the Olympic hymn was sung. Many of these elements of the opening ceremony still exist today. The Athens Olympic Games ended with a closing ceremony.

Relative to today's games, the Athens games were mini-games. 241 male athletes took part, not a single woman. But in contrast to the ancient games, women were allowed to watch the sports competitions. The participants came from 11 European countries, the USA, Chile and Australia. This was the first international sports competition. The participants undertook tedious journeys by ship and train. The very first winner of an Olympic competition was the American Francis Lane, who won his 100m lead in 12.5 seconds. The first modern Olympic champion was the American James Connolly, who won the triple jump with 13.71m, over a meter before the second. The winner received a silver medal and an olive branch. The second got a bronze medal, the third nothing because the organizer had limited financial means.

43 competitions took place in 9 sports, these were fencing, weightlifting, athletics, cycling, wrestling, shooting, swimming, tennis, gymnastics. The swimming competitions were held in the open sea near Piraeus. The water temperature was only 13 ° C! In the early stages of the Olympic Games, there was still no strict division between nations. Therefore, four athletes competed in two mixed teams in tennis.

The first Olympic Games were a complete success. Baron de Coubertin strongly rejected the Greek Crown Prince's suggestion that the Olympic Games should always be held in Athens because he considered the Games to be an international event.